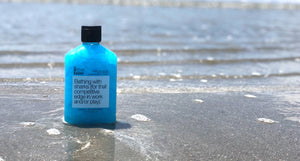 fragrance:
beach + sky blue water
Bathing with sharks (for
that competitive edge in
work and/or play).
We've infused this formula with Royal Jelly extract,
which boosts energy levels and the will to succeed.

paraben, sulfate, SLS, phthalate & cruelty free
ACHIEVEMENT THROUGH SELF-CONFIDENCE
La Rochefoucauld once said: "To succeed in the world, we do everything we can to appear successful already." Hey, the man had a point. In this dog eat dog world, you need the edge. The best thing to do, pretend you already have it. Act like a star and the world will treat you like one. Job interview? Big presentation? Momentous occasion? Feeling small? Voiceless? Here's help.