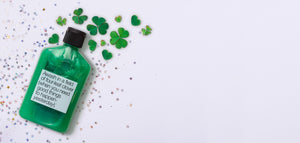 fragrance:
green & white tea + clover
Awash in a field of four-leaf
clover (when you need good
things to happen- yesterday).
All natural green tea & white tea extract + shamrock oil makes
a nice clean scent, and promotes positivity and good luck!

paraben, sulfate, SLS, phthalate & cruelty free
intensive positive luck
If lately your lucky star has been eclipsed by rain clouds, find the clover and find yourself on the favored side of fate. Surround yourself with bubbles infused with extracts from a four-leaf clover-rich field in County Kerry on the Emerald Isle. An old Irish verse is as follows: One leaf for fame, One leaf for health, One for a faithful lover, And one for glorious wealth. That pretty much covers all the bases, doesn't it?