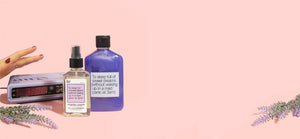 fragrance: lavender + clementine
To sleep full of sweet dreams
(without waking up in a mad
panic at 3am).
We've infused this formula with soothing chamomile and
lavender extracts, which promote relaxing sleep
and reduce anxiety.

Paraben, sulfate, SLS, phthalate and cruelty-free

anti-mania, stress relief
Don't tell me to relax. I don't know how. Did I cross everything off my list today? I am hearing screaming in my head. Sound familiar? Here's help.